By Gary Steele
I was very surprised when I first entered PokerRoom.com. I had never heard of the site before and expected it to be a new site with few players. The site turned out to be very well established with lots of experienced players. They do not advertise on television and their links are not plastered all over the internet like the other big sites, but there are other reasons people play at this site.
The Interface
At first I was simply overwhelmed by the number of options and amount of information available. There is so much detail on the screen that it is difficult to find the most basic information (like the amount of the pot) until you become comfortable with where it is. Once you become comfortable with the screen you can tap into the more impressive features available on the site. The stats this site keeps on your game are the best in the industry.
Your poker screen is customizable in many ways. I have not seen many of the options offered on any other site. For instance, in addition to taking notes you have six buttons you can assign different meanings to. You can then place these buttons on players to easily identify their playing styles. I have called my Red button "very tight" and I put it on players who only play very good hands. You can set up your chat screen to show very specific information.
Play progresses quickly, more quickly than any site I have ever played. There are shortcut keys which make it possible to play without using the mouse. It is obvious someone spent some time analyzing game play and making it simple to quickly choose your options. For example, when it is your turn you can type in the amount of your raise and press F3 to make the raise. No other keystrokes or mouse clicks are required. The only useful button I was looking for that I did not see was the "Check/Fold To Any" button.
While these options are available, they are also very vague. For instance, the call button simply says "Call". I would rather it said Call $5.25. You can't tell the difference in many of the chips (the $1 chip looks like the .25 chip) so you have to be very careful to find the information elsewhere.
The lobby could use some work. I really like seeing average pot and hands per hour when choosing my table. This information is available, but only when you click on the table. It is not listed on the table display and hence takes me ten times longer to find a good table. Also, all of the hundreds of Hold'em tables are all thrown together in the Hold'em tab. You have to page past hundreds of limit tables to find the no-limit tables.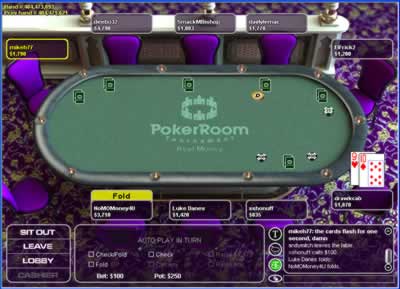 Signing Up and Depositing Money
Signup is easy. I gave them some very basic information and I was playing. As always, I used Neteller to deposit my funds and there were no problems. I was playing with the money seconds after I clicked the deposit button. I liked the account screen, even though it was web based. It told me the bonuses I was due for, how many point I had earned towards that bonus, and how many points I had left to go.
Game Play And The Players
This site is for experienced players. It is very hard to find bad players, even at the lower limit tables. The pots tend to be smaller than the pots at other sites because the players are more conservative. There are no really low limit games. All of the games start at 25 cents. The blinds are a little unusual. At a $1/$2 no-limit table, the blinds are .50/$1. This keeps more people in the game and can lead to some very bad beats. Be sure to raise the pot when you have something decent or else you will be up against some junk.
The Deposit Bonus And Promotions
I have been told the deposit bonus used to be very low. They must have fixed this because they gave me a 40% bonus on my initial deposit, which is very competitive. It will take close to a month to earn a $40 deposit though. The points add up very slowly and you do not get the bonus as you go. You have to earn all of the points to get the bonus.
The other PokerRoom.com promos are pretty limited. They do pay out $1000 between the top 50 player point earners every day. They also are currently hosting a $300+$20 tournament where the prizes are entries into the Bellagio 5-Diamond Classic Tournament. Since this tourney has a $15,000 buy-in and includes the top players in the world, it would be a great trip.
The Games Offered
Only the basic games are offered. Hold'Em, Omaha, Omaha Hi/Lo, Stud and Stud Hi/Lo are your options. They also allow you to host private password protected tables so bring your friends. The Omaha Hi/Lo players were bad and I won more money playing this game than I did at Hold'em.
Tournaments
The tournaments were average. They start about every 30 or 60 minutes and attract an average number of players. The current $10 No-Limit tourney I am in has 289 players, but only pays the top 20, which is low compared to other rooms. I could not find anywhere telling me if the tourney was an add-on or freezeout format before the start, but it has turned out to be a freezeout. As good as the players are in ring games, I was not very impressed with the players I saw in the tourney.
Summary
I really enjoyed the game play at PokerRoom.com once I figured out the buttons and all of the controls. I made the wrong move many times before I figured everything out though costing me a few dollars. I have never played at a site where I received hands as consistently bad as the ones I got at this site. I played for weeks and never received a good hand against a bad player, but everyone goes on these streaks sometimes and the cards did seem to be very random.
Poker Rooms:
Aced Poker review
Bodog Poker review
Prima Poker review
Carbon Poker review
iPoker review
Party Poker review
Pacific Poker review
PokerRoom.com review
Wagerlogic Poker review
Ultimate Bet Poker review
Titan Poker review
Poker Stars review