By Gary Steele
I enjoy playing at Party Poker because it's simple to use and the customer service is excellent. After I made a deposit yesterday I was called by a representative to verify that I was aware of the deposit. That is pretty impressive security to me.
The Interface
The screen is simple, yet very well designed. It is uncluttered and the player's names and bankrolls are easy to see. If you have taken notes on a player in the past a small notepad appears next to the player's name. A checkbox allows you to select "Auto-Post Blind" and "Fold to any Bet". While waiting for the other players to make their decisions you can select to "Fold" on your turn, "Call the BB", or "Raise/Bet". One feature I like, which is not offered on every site, is the ability to show your losing or winning hands. Occasionally, when I do something unusual, I like to show the other players so they associate that type of play with me.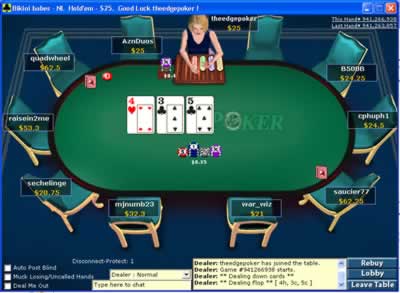 Signing Up and Depositing Money
This process at Party Poker is simple. A quick name, password, email selection allowed me to sign in and play the free tables. Another 2 minutes filling out name, address, and credit card information allowed me to start playing at the money tables. The deposit went through quickly and, like I mentioned before, a representative called me 10 minutes later to verify that I knew about the deposit.
Game Play And The Players
The game play of both the site itself and the players is fast. The site allows you 40 seconds to make your decision, but most players are very quick. The players are usually pretty good, but the shear number (50,000 players on the network on a Sunday night) makes it possible to easily find bad players to take advantage of. If you are looking for a challenging game, you will have no problem finding a game full of very good players at the higher limits.
The Deposit Bonus And Promotions
The deposit bonuses are generally very average. This is probably due to the amount of exposure they get from their advertising.
The Games Offered
The sites offers the most popular games including Hold'em, 7-Card Stud, Omaha and Hi/Lo varieties. This is what everyone is playing anyway, but if you are looking for something different you probably will not find it here.
Tournaments
Party Poker offers the basic tournament structures including Multi-Table and Single-Table. The tournaments are where this site is really lacking in my opinion. The Prima Poker network offers many more tournaments and much more information about the tournament itself when signing up and playing. Even though the tournaments are limited, these two sites offer some of the most impressive tournament incentives. Many entries to the World Series of Poker and the World Poker Tour events are given away as tournament prizes at these sites each year. Here is a list of the available tournament entry fees:
$10/1
$20/2
$30/3
$50/5
$100/9
$200/15
$300/20
Summary
I have not had very much success at Party Poker. I had incredibly wild swings playing at both, and I hear others say the same. Even playing tight I would be up big, then down big, then up big, then down again. This is probably due more to the fact that I played here when I was much more inexperienced than I am now. I believe if given some time and an adequate bankroll, a good player could tear up the no-limit tables here. As a matter of fact, I am going to go give it a try now. See you there.
Poker Rooms:
Aced Poker review
Bodog Poker review
Prima Poker review
Carbon Poker review
iPoker review
Party Poker review
Pacific Poker review
PokerRoom.com review
Wagerlogic Poker review
Ultimate Bet Poker review
Titan Poker review
Poker Stars review