By Paul McGuire
Max Pescatori is one of the best up and coming players in poker today. He had an impressive showing at the 2005 World Series of Poker and you should be hearing great things about him in the future. Known as "The Italian Pirate," Max Pescatori was born in Milan, Italy. He has been living in Las Vegas for over a decade. When he first arrived, he didn't know anyone. He studied English but he never spoke it on a daily basis. He adapted quickly and became enamored with poker. He started playing Seven-card Stud until someone suggested that he should be playing Texas Hold'em.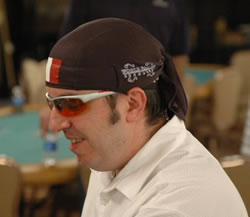 Max Pescatori - Source: Las Vegas & Poker
Max Pescatori met Valter Farina, who at the time was the only Italian to win a bracelet at the WSOP, and he gave Max some tips on being a professional poker player. After years of playing low limit poker in Las Vegas casinos, Max eventually turned "pro" in 1999. He started playing $15/$30 Hold'em. Although he never really interacted with other players, he met Evelyn Ng around that time and the two have been friends ever since.
In 2001, Max won a seat online for the World Poker Tour Aruba tournament. He played with some of the top pros at the time. Just before the trip he met Marco Traniello who introduced Max to Jennifer Harman. The three also became friends and Jen started giving Max advice on his poker career. She suggested that he move up in limits and play tournaments if he wanted to learn more about poker and improve his game. Max followed her advice and bumped up to $80/$160. He would often sit behind Jen at the Bellagio in the $1500/$3000 game and she would show him her cards. He also started playing other games like Omaha Hi/Lo, Pot Limit Omaha, and Lowball.
In 2003, Max focused on playing tournaments. He won two events in three days at the World Poker Challenge in Reno, NV. Later that year, he would make final tables in Paris, Austria, and at the Four Queens in Las Vegas. In 2004, Max cashed twice at the World Series of Poker and made several final tables including the Ultimate Poker Challenge and events in Los Angeles, Reno, and Las Vegas.
2005 appeared to be the breakout year for Max. He made the money in his first World Poker Tour event. In January, he won a WSOP circuit event in Atlantic City. At the 2005 WSOP, he cashed six more times. He even made his first final table which included top notch players like Chris "Jesus" Ferguson, Erik Seidel, and Josh Arieh. Max proved that he's an excellent all around player after he made the money in events like Seven-card Stud, Limit Hold'em, Pot Limit Omaha, No Limit Hold'em, and Omaha Hi/Lo.
Max Pescatori currently lives in Las Vegas, NV. He is a contributing author to Card Player Magazine. He is also a spokesman for the World Poker Exchange. This is his first big endorsement deal and he's their official poker odds consultant. Make sure you keep your eye on Max; it's only a matter of time before he wins his first WSOP bracelet and wins a WPT event.