By Paul McGuire
At the poker table, Jen Harman is fierce and intimidating. She sits in the largest cash games in the world and regularly plays against Johnny Chan, Doyle Brunson, and Chip Reese. Most recently, she has been making a name for herself on the tournament circuit. Despite some serious health problems, she survived a kidney transplant and is now at the top of her game both mentally and physically. Daniel Negreanu described her as "one of the best all-around players in the world. Period."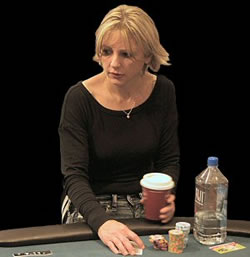 Jen Harman - Source: Las Vegas & Poker
Jen Harman was born in Reno, Nevada. As a young girl, she would often sit in her father's seat when he was losing during his home games. That was where it all began and she quickly developed her keen ability to read people very well. Jen would begin supporting herself playing cards by her 21st birthday. She held random jobs along the way as she worked her way up in limits. It took several years and there were times she had to drop down in limits when her bankroll took hits, but she persevered. She started playing $10/$20 and today she regularly plays $3,000/$6,000. She once won a pot worth over $1 million at the Bellagio. At the time, it was the largest cash pot ever won during a cash game at a Las Vegas casino.
Jen Harman has two World Series of Poker bracelets. In 2000, she won her first title in Lowball. In 2002, she won her second bracelet in the Limit Hold'em event. She currently has 12 money finishes at the World Series of Poker. She recently finished in 2nd place in a WSoP Circuit event at the Rio. She has also made the final table at two World Poker Tour events. She came in second at the Ultimate Bet Challenge in Aruba and she placed 4th at the Bellagio Five Diamond Classic.
Jen Harman was a contributing author to Doyle Brunson's Super System 2. She wrote the entire chapter on Limit Hold'em and shared some tips on playing tight and aggressive. After reading her section, you get a good understanding of why she is regarded as one of the best Limit Hold'em players in the world.
Although she has excelled in poker, Jen Harman has had to battle with major health problems in her personal life. During the Main Event at the 2004 World Series of Poker, Jen had organ transplant surgery. Luckily, her niece was able to donate a kidney before she got seriously ill. Today, she is hard at work creating the "Jen Harman Challenge," a charity tournament that will raise awareness about becoming an organ donor.
Jen Harman lives in Las Vegas, NV with her husband, Marco. She attributes a lot of her success to Marco's support. Since he also plays a little poker, he understands the sheer frustration and wild swings in bankrolls and moods that poker players must endure every session. She is affiliated with the online site, Full Tilt Poker. You can often find her playing there when she isn't sitting at the high limits tables at the Bellagio.