By Paul McGuire
Layne Flack is one of the most dangerous pros to be playing against. Seriously. If you asked me to name a few players that I did not want sitting at my table, Layne Flack would be at the top of that list. He's the last player you would ever want to have sit down to your immediate left. He's reckless and dangerous and if you make one passive move, he'll put you all in for your entire stack. You can never put him on a hand and he will destroy you with his post-flop play. Layne Flack is not just one of the best No Limit Hold'em players of all time. He's also skilled in other games and has won WSOP bracelets in Pot-Limit, Omaha Hi/Lo and Limit Hold'em. In total, Flack has earned over $3 million in career poker winnings.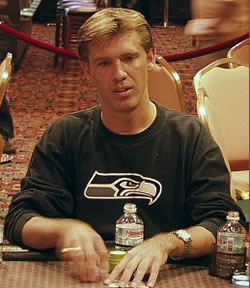 Layne Flack - Source: Las Vegas & Poker
Layne Flack was born in Rapid City, South Dakota in 1969. He grew up in Montana and never played any card games as a child aside from pinochle with his grandparents. He became a poker dealer and eventually made the jump from one side of the felt to the other. The first time he entered a casino was when he took a job at a casino in Billings, Montana at age 18. He was eventually made night-shift manager and began playing Five-card Stud during the days. He attended college and studied business for a little while and continued to play poker and deal cards during his summer vacations in Deadwood, South Dakota. He realized that he was making too much money playing poker and quit school.
After a brief stint in Reno, NV, Layne Flack started running his own poker games and rented out space in card rooms and casinos all over Montana. He met fellow Montana native and 1996 WSOP Champion Huck Seed at one of his games and Seed encouraged Flack to head down to Las Vegas to play. On his first trip to Las Vegas, Flack ended up winning a $1,500 buy-in No Limit Hold'em event in the Hall of Fame series. That win was enough to convince him to become a regular on the tournament circuit. When Flack was in Las Vegas, he met Johnny Chan who also became a mentor and backer to the young player.
Layne Flack's style is fast and aggressive. He plays without fear and has no problems putting his chips in a pot. Flack is always shifting gears so you never know what kind of cards he's playing. His biggest strength is his ability to outplay almost anyone after the flop. He's got an amazing ability to be able to read his opponents, which gives him a better edge at the tables. Unfortunately, Layne Flack has been known to not always play to the best of his abilities. If you catch him on an off day, you'll often see him make too many mistakes and play too aggressively. However, when he's at the top of his game, he's one of the most feared players in poker.
Layne Flack has an impressive resume of major tournament wins where he has displayed his versatility as a player. He has won five bracelets in various World Series of Poker events over his short career in Pot-Limit Hold'em (1999), two for No-Limit (2002), Omaha Hi/Lo (2003), and Limit Hold'em Shootout (2004). He also has 12 final table appearances at the WSOP including two in 2005. He was the runner up in a Pot-Limit Hold'em event and made a final table in the $5,000 Short-handed NL event, which also featured two WSOP Champions in Doyle Brunson and Scotty Nguyen.
Layne Flack also made three final tables on the World Poker Tour at Foxwoods (2002), Commerce (2003), and Aruba (2004). He won his first and only WPT event at Commerce Casino in Los Angles for the WPT Invitational in a final table that featured L.A. Lakers owner Jerry Buss, poker writer Andy Glazer, and pros David Chui and Men the Master. His second place finish at Foxwoods was impressive because it featured Howard Lederer, Phil Ivey, Andy Bloch, and Ron Rose. That had to be one of the most difficult final tables to beat in the history of the WPT and Flack took second place.
Layne Flack currently lives in Las Vegas, NV. You can play against him on Full Tilt Poker.