By Paul McGuire
The European Poker Tour started its second season at the Casino de Barcelona in Barcelona, Spain. Last year only 227 players entered the first EPT event. At this year's Barcelona Open, 325 players bought in for €4,000 and they were competing for a prize pool worth over €1.3 million. The top 27 players would win prize money.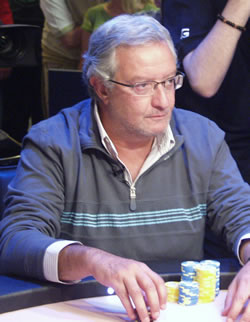 Jan Boubli - © Paul McGuire - Tao of PokerFrenchman Jan Boubli won the Barcelona Open, which was the largest tournament in the brief history of the EPT. For first place, Boubli won €416,000 and a seat in the €10,000 buy-in Grand Finale event that will be held in Monte Carlo at the conclusion of this year's EPT. It was a special win for Boubli, the former dentist who is considered one of France's top players.
The best players in Europe participated in the Barcelona Open including Gus Hansen, Marcel Luske, Devilfish Ulliot, Isabelle Mercier, former WSOP champion Carlos Mortensen, Tony G, Christer Johannson, Barny Boatman, Kirill Gerasimov, Noah "Exclusive" Boeken, Luca Pagano, and Liam Flood. Last year's winner Alexander Stevic from Sweden was eliminated on the first day, along with American Brandon Schaefer, who made two final tables at last year's EPT including a win in Deauville, France. Carlos Mortensen bubbled out in 28th place and missed the money by one spot.
Here are the results from the final table:
Jan Boubli (France) €416,000
Christer Johansson (Hollivken, Sweden) €228,000
Patrik Antonious (Helsinki, Finland) €117,000
Patrick Mortensson (Stockholm, Sweden) €91,000
Gus Hansen (Copenhagen, Denmark) €78,000
Anton Bergstrom (Lund, Sweden) €65,000
Dario Alioto (Palermo, Italy) €52,000
Romain Feriolo (Marabella, Spain) €39,000
The final table was exciting and featured players from all over Europe including three Swedes. Three time World Poker Tour champion Gus Hansen, built up his stack on the first day and pushed everyone around at his tables with his aggressive style. He was the obvious favorite to win. Although, Christer Johansson also won an event on the WPT and he began the final table as the chip leader. Patrick Mortensson was the youngest player at the final table. He's the Swedish Monopoly Champion. Jan Boubli is a retired dentist who's now a professional poker player. Romain Feriolo came in 4th place at the 2004 EPT Grande Final in Monte Carlo. Patrik Antonius won the Scandinavian Championships. Dario Alioto is a pharmacy student in Budapest. Lastly, Anton Bergstroem is a twenty-year old student who was happy to make it as far as he did.
Romain Feriolo finished in 8th place when he was busted by Christer Johansson. Dario Alioto was the next player eliminated in 7th place. Despite losing a lot of his stack early by the three players from Sweden at the final table, Gus Hansen managed to knock out Anton Bergstrom in 6th place.
Hansen's stack went up and down at the final table. When he was low on chips, he made a move with A-8 versus Patrik Antonius's low pocket pair. Hansen won the coin flip and doubled up. He knocked out Anton Bergstrom in 6th place when his A-4 held up against Q-10. Hansen luckily flopped three fours. Then he lost a huge pot with Ks-7s when Patrick Mortensson's moved all in A-Q. Gus Hansen's stack took a big hit when he lost to a higher straight. Hansen's luck ran out when he was knocked out in 5th place when his Ks-Qs lost to Jan Boulbi's J-J. After Boubli knocked out Gus Hansen, he woke up and had some chips to play with. Boubli was folding a lot of hands and playing tight before that.
The young Patrick Mortensson was the next player knocked out in 4th place when he ran into Patrik Antonius' Q-Q. A few hands later, Jan Boubli scooped a $1 million pot from Patrik Antonius when he won with a higher flush. Boubli was all in and doubled up against the young Fin. Patrik Antonius was eventually eliminated in 3rd place by Jan Boubli. In two decisive hands, Antonius gave Boubli all of his chips.
The heads up battle between Jan Boubli and Christer Johansson went fairly quickly. On a board of 8-2-8, both players moved all in. Christer Johansson actually caught a piece of flop with A-2 and Jan Boubli was on a pure bluff with K-Q. Luckily for Boubli, a miracle Queen fell on the river and that gave him the victory. He was all tears as he thrust his arms in the air to celebrate his victory. For second place, Christer Johansson won €228,000. Jan Boubli won €416,000 and a seat to the EPT Grand Finale in Monte Carlo.
Here's the schedule for the remaining EPT events:
London, England Sept. 30 - Oct. 2 £3,000 Buy-in
Baden, Austria Oct. 4-6 €4,000 Buy-in
Dublin, Ireland Oct. 29-30 €4,000 Buy-in
Copenhagen, Denmark Jan. 20-22 kr 30,000
Deauville, France Feb. 8-11 €4,000
Monte Carlo, Monaco March 8-11 €10,000