By Paul McGuire
Erick Lindgren is one of the rising stars in the world of poker. Known as E-Dogg to his friends, he first made a splash in 2003 when he won a World Poker Tour event and since then has drawn the attention of both poker pros and fans alike, especially after amassing over $3 million in tournament winnings in a very short span.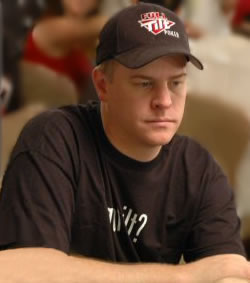 Erick Lindgren - Source: Las Vegas & Poker
Erick Lindgren was born in Burney, California and grew up in Northern California. He was always competitive and thrived in a team sports environment. He also happened to be an excellent athlete and found success in basketball. He played shooting guard and was awarded the Most Valuable Player in his school's league. He was also a standout football player, where he played quarterback. Both point guard and quarterback are leadership positions on the field and Lindgren flourished displaying his ability to direct his teammates.
Lindgren attended Butte College and lost interest after a few years. He eventually found a job as a blackjack dealer because he enjoyed a gambler's environment. He soon took poker seriously and became a student of the game.
"I'm just a really competitive guy and poker satisfies my competitive nature," Lindgren once explained about his attraction to poker.
In early 2000, he was playing in small buy-in tournaments in card rooms in Northern California. He won $7,300 in one of his first tournament victories and never looked back. In December of 2002, he won an event at the Bellagio during their inaugural Five Diamond Classic, where he took home almost a quarter of a million dollars. His final table included WSOP Champion Carlos Mortenson and Vinny Vinh.
Without a doubt, 2003 was a breakout year for Lindgren. In early 2003, Lindgren bubbled out of the final TV table on the world Poker Tour's Party Poker Million II cruise, which was won by Howard Lederer. Two months later he cashed in his first World Series of Poker event and made his first final table. He took 6th place in the $3,000 Pot Limit Hold'em event. He had another tough final table that included both Dave "Devilfish" Ulliot and Chris "Jesus" Ferguson. That summer, he made a final WPT TV table at the famous Aviation Club in Paris, France. He had to face two top French pros in Jan Boubli and David Benyamine, who eventually won the Grand Prix de Paris.
Two weeks after his final table appearance in Paris, Lindgren took second place in an Orleans tournament in Las Vegas. A couple of months later, he won the WPT event in Aruba where he picked up $500,000 and made his second WPT final table inside of three months. He had to beat Daniel Larsson, one of Sweden's top players, in order to pick up his first WPT championship. In November, he cashed in the WPT World Poker Final at Foxwoods, CT. He made the final two tables in the event that was won by Hoyt Corkins. At the end of he year, Lindgren was named World Poker Tour's Player of the Year for 2003 for obvious reasons. When 2003 was complete, Lindgren found himself with almost $1 million in career earnings and made two WPT final tables and one WSOP final table. Most poker players do not achieve those milestones in their careers, let alone inside of a few months.
Of course, Lindgren continued his run in 2004, when he won the WPT Party Poker III cruise. That was his second WPT victory and his third WPT final table inside of 53 weeks. It was also one of the most difficult final tables he faced in his life. He had to outslug heavyweights such as WSOP Champion Scotty Nguyen, Daniel Negreanu, Barry Greenstein, and Steve Zolotow. Lindgren won a $1 million for that victory and became one of the few players to have multiple victories on the WPT. Only Gus Hansen has more with four wins. Lindgren is tied with David Benyamine, Howard Lederer, Daniel Negreanu, Ron Rose, and Tuan Le for two wins each.
At the 2004 WSOP, Lindgren cashed three times and made a final table in the $5,000 Omaha Hi/Lo event, which showed that he had some versatility at the poker tables and did not just excel at No Limit Hold'em. His final table included WSOP Champion Huck Seed, Miami John Cernuto, Minh Nguyen, Thor Hansen, and was won by Bret Jungblut. Later that year, he played in some events in Ireland and took 7th place in the Gaming Club's World Championships.
In 2005, Lindgren made the final table at the L.A. Poker Classic at Commerce Casino in Los Angeles. He took 5th place and had to battle it out with Ted Forrest and Michael "The Grinder" Mizrachi. At the 2005 WSOP he made another final table and took 9th in the NL Hold'em Shootout. Although he didn't have the kind of year he had in 2003, he managed to win over $1 million in both 2004 and 2005. He's proven over the past few years that he's a tough tournament player and that you don't want him at your table.
Erick Lindgren currently lives in Las Vegas, NV and enjoys playing basketball and golf. You can find him playing online at Full Tilt Poker, where he is one of their feature pros. He is also the author of the book, "World Poker Tour: Making the Final Table."