By Paul McGuire
Antonio Esfandiari is one of the rising stars in poker today. The former magician has made a huge splash onto the tournament scene with his stellar performances on the World Poker Tour. At that time he won his first WPT event, Antonio was the youngest player to ever win a televised poker tournament. Antonio Esfandiari will eventually become one of the best players in the world. He has all the skills since he's fearless at the tables and has an uncanny ability to read people.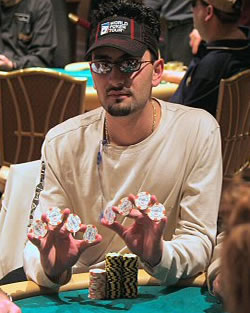 Antonio Esfandiari - Source: Las Vegas & Poker
Antonio Esfandiari was born in Tehran, Iran in 1978. He moved to America with his family when he was nine years old and grew up in San Jose, California. His birth name is Amir but he changed it in when he was a kid because he was teased incessantly. Shortly after high school he saw a magician do a simple card trick and that moment changed his life. The magician asked Antonio to pick a card and then the magician ended up picking that exact card out of the deck. Mesmerized by the trick, Antonio headed out to a magic store and purchased a deck of cards to practice tricks with.
Over the next few years, Antonio worked religiously on his magic and practiced coin tricks, sleight of hand, and card tricks. By the age of 19, he was a college student and began working as a waiter while he slowly developed into an excellent magician. He would do tricks for his customers which received mixed reviews from management. Antonio eventually convinced the owner to allow him do a few tricks to entertain the customers. Soon after, he quit school and started performing as a full-time magician working parties and events.
One day his roommate was going to play in a poker tournament and invited Antonio to tag along. Antonio had never played in a poker tournament before and that was his first time ever inside a casino. He was knocked out early but he had already caught the poker bug. He went home and read as many books about poker as he could get his hands on.
Antonio eventually built up his bankroll. After a few months, he had almost $20,000 and took it to Las Vegas. He played in a few World Series of Poker events and cash games where he lost it all. That huge loss did not discourage Antonio. He went back home to California and worked on improving the holes in his game and rebuilt his bankroll. He eventually hit the World Poker Tour circuit and the rest is history.
On the first season of the World Poker Tour, Antonio Esfandiari made a name for himself. He entered a WPT event called the 2002 Gold Rush at Lucky Chances Casino in San Francisco. He made it to the final table that featured some of the top names in poker which included Phil Hellmuth, Paul Darden, Chris Bigler, Vince Burgio, and Tommy Garza. Antonio held his own against those tournament veterans and finished in 3rd place, winning $44,000. He began what would become a series of bouts with Phil Hellmuth. After Antonio knocked Phil Hellmuth out, he was overly jubilant and played up to the anti-Hellmuth crowd, a move which angered Hellmuth who thought it was unsportsmanlike.
In February of 2004, Antonio made two final tables on the WPT in the same week. He won the WPT L.A. Poker Classic at the Commerce Casino in Los Angeles. He took home almost $1.4 million and beat out a final table that included top pros such as Vinny Vinh, Bill Gazes, Adam Schoenfeld, and WPT champion David Benyamine. Later that week, Antonio made his third career final table on the WPT when he came in 6th at the WPT Invitational at the Commerce Casino in Los Angeles. That final table featured his good friend Phil "The Unabomber" Laak, Humberto Brenes, John Juanda, and Harry Demetriou. Indeed, 2004 was Antonio's best year and he would end up at 11th on the 2004 Money List.
Antonio has also won one World Series of Poker bracelet. He won it in 2004 and beat out his nemesis Phil Hellmuth for a victory in the $2,000 Pot Limit Hold'em event. Also at his final table were Chris "Jesus" Ferguson and Tony Cousineau. Antonio also made two other final tables. He took 5th in 2003 for his first ever career WSOP cash in the $2,000 No Limit Hold'em event. At his final table were Minneapolis Jim Meehan, Juha Helppi, Mike Sexton, and Kathy Liebert. He also made a final table at the 2005 WSOP in the Short-handed NL event. He finished in 5th at a final table that featured David Singer, Isaac Galazan, and Harry Demetriou.
Antonio Esfandiari was once quoted as saying, "Don't let your first limo ride be in a hearse." That sums up his aggressive style of play. He's a fearless player and will move all in against you if he senses weakness. He has won over $2.27 million playing in poker tournaments and is 13th on the all time WPT money list. To this day, Antonio is close friends with Phil Laak. The two used to be roommates and often share rooms while attending poker tournaments on the road.
Before he started playing tournament poker, Antonio Esfandiari was about to attend culinary school. His dream is to open a magic-themed restaurant. For now, Antonio lives in San Francisco, California and can be seen playing on the tournament circuit.